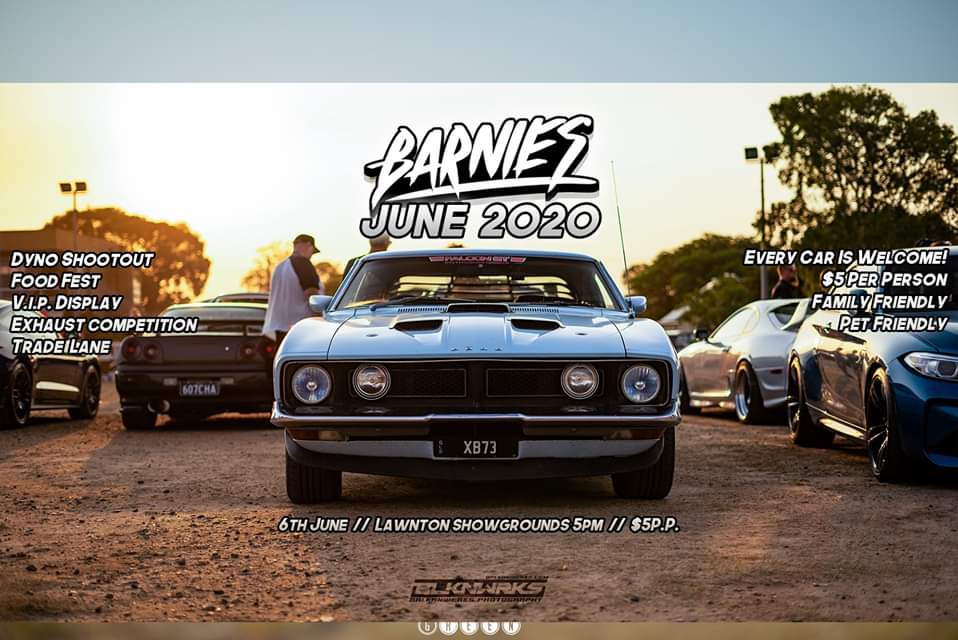 BRISBANE'S BIGGEST CAR SHOW, FOOD FESTIVAL AND TRADE SHOW!
6th of June, 2020 from 5pm
Pine Rivers Showgrounds
Show & Shine, Food Trucks, Dyno, Trade Stalls, DJ, Family Friendly!
$5 ENTRY PER PERSON
We do NOT condone any SKIDDING, HOONING, REVVING, ALCOHOL, or ANTISOCIAL BEHAVIOUR.
2020 continues back at the watering hole, home grounds, the Pine Rivers Showground.
\\$5 ENTRY PER PERSON//
Here's what we will be bringing to the show:
•Show & Shine
•Food & Drink trucks including
•Torque Time Dyno!
•Trade Stalls
– Exclusive VIP Parking Selection
– Exhaust Competition/Sound off!
•Barnies Merchandise!
•Fun for the whole family!
There will be bins provided in various places across the event. Please use them in order to respect the venue and the organisers.
We're ready to party with you guys this Barnies! Travel calm and safely to and from the event, and enjoy an unmissable event with the Brisbane car community!
See you at Barnies 🤙🏻
Warning: Please check with the event organiser that events are on before travelling.