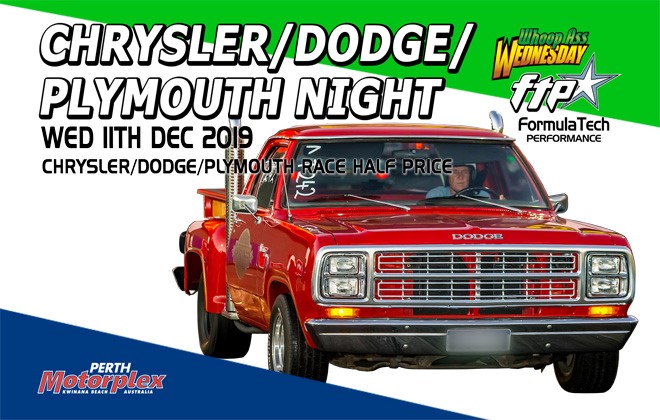 Either meet at the venue or if enough interest is posted here a meet point and cruise to the venue will be added.
http://www.motorplex.com.au/ftp-waw-cdp-night-dec-11/
EVENT DETAILS
Any Chrysler, Dodge or Plymouth manufactured vehicle for half price so get down to Perth Motorplex for some fun on the Drag Strip. Of course all other cars and bikes are eligible to enter at the normal Price of $60.
Don't forget you can take a passenger for ride as well just by purchasing a passenger form at the Competitor Entry gate.
This is all you need to do …
No need to book. Just turn up to Perth Motorplex between 5pm and, ideally, 7pm. Competitor Entry closes at 8pm
At Perth Motorplex, go straight to Competitor Entry and purchase an entry form. At this time, you may choose to purchase an extra driver or passenger pass.
After purchasing an entry form, drive or ride around the green scrutineering building and line-up to be scrutineered.
Once your car or bike has been scrutineered, park your vehicle in pit area, then GO BACK to scrutineering with photo-identification and see the lovely officials at indemnities to sign-in.
At the indemnities sign in, you will receive an armband. Anyone who is in the car on the race track will need the appropriate armband.
Warning: Please check with the event organiser that events are on before travelling.