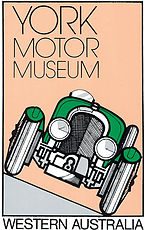 Since 1979, the York Motor Museum has been one of the main attractions in the historic town of York. Situated 97kms from Perth, it is an easy drive into the peaceful Avon Valley .
Getting there (Google Map)
The one hour journey takes you through rolling pastures dotted with sheep, past olive farms and wheat fields and follows the gently flowing Avon River to York.
The Motor Museum is located on the main street of Western Australia's most historic inland town. It is housed in a fine late 19th century commercial building that has been restored to its former glory and is easily identified by its distinctive striped verandah.
Admission:
Adults – $10.00
Senior – $7.00
Children UNDER 12 – $3.00
Family – $25.00
​Phone: +61 8 9641 1288
Call for directions and opening times